Why do historians have different views of the suffrage movement?
Enquiry 4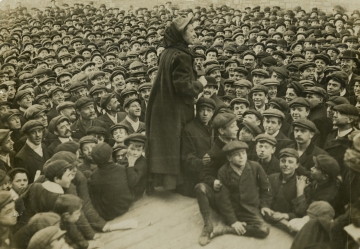 Katherine Douglas Smith speaking to a crowd of men, c.1906-1914 - LSE Library
This is a mini-enquiry designed for use at A-level exploring current interpretations by historians working on the suffrage movement. It will also look at the relationship between their interpretations and the evidence with which they are working. Its aim is to introduce students to current debates about the suffrage movement but also to allow them to explore the way in which the evidence a historian chooses to focus on affects the way they construct their interpretation.
It would be particularly useful for those studying the following A-level courses:
OCR
Y111 Liberals, Conservatives and the Rise of Labour 1846–1918
Y112 Britain 1900–1951
AQA
2M Wars and Welfare: Britain in Transition, 1906–1957
Edexcel
Paper 3, Option 36.1: Protest, agitation and parliamentary reform in Britain, c1780–1928
Scholarly rationale
This enquiry includes a range of recent scholarship, covering interpretations that emphasise the importance of the suffragette campaigns, explore the radicalism of the suffragists and the effectiveness of their campaigns, and tackle some of the more uneasy questions around suffragette tactics, such as whether they could be described as domestic terrorists. Including these perspectives gives the students an idea of the current state of debate in the field and introduces them to the wealth of competing interpretations that it is possible to have about the suffrage movement.
Curricular rationale
This enquiry should allow students to explore the link between interpretation and evidence and also introduce the idea that the focus of a historian's work can influence them to view the same body of evidence in a different way to others working in the field or to put it to different uses. This should help to deconstruct over-determined analyses of interpretations focused on the details of provenance alone and simplistic judgements focusing on questions of 'bias'.
If you are downloading this unit to use with your students, why not think about taking part in the evaluation project which aims to examine the impact of this website and resources upon student knowledge and democratic engagement? Participation involves the administering of a student quiz both before and after the learning sequence. You can find details here.