Suffrage Poster Competition Winners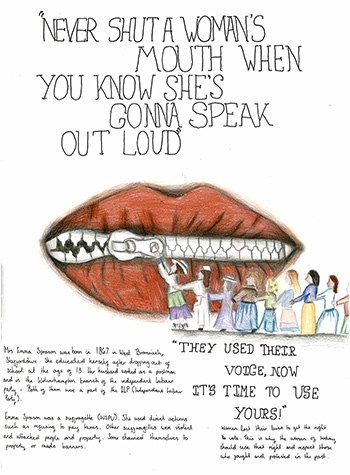 Suffrage Poster Competition winning entry
Congratulations to four students from Newport Girls' High School – Daniah, Romaisa, Hetavi and Saira – who created the winning poster for our Suffrage competition.
The poster had a modern message while demonstrating research and inspiration from a local suffragist from the past. The judges at the HA were very impressed.
The competition received nearly 100 entries all of which underlined why the suffragist campaigns and messages of over a hundred years ago still hold resonance today.
The winning poster will be printed in HA publications and is here on the website.
A number of other entries were commended by the judges, in particular the runner up from Allegra Marino from Our Lady's Catholic High School in Preston which was clearly committed to encouraging the young men and women of their region to be inspired by the suffragists to take part in democracy today.
Prizes are now on their way to the winners. We would also like to say a huge thank you to all those who submitted entries, and we hope that the suffragists continue to inspire many generations to come.